Every day is a MINISUNday!
Vitamin D is a fat-soluble vitamin that is produced by our bodies from sunlight. Minisun vitamin D tablets were developed in Finland, the northern country that has just a few hours of sunlight during winter months.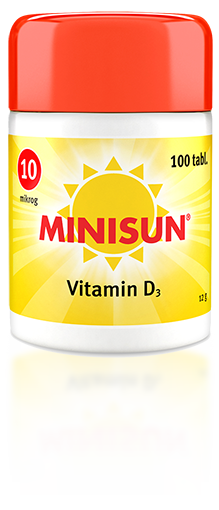 Minisun® vitamin D3-tablets for health and wellness
Minisun tablets contain effective vitamin D3 (cholecalciferol) derived from sheep wool.
Small sized, fresh tasting tablet is easy to chew or swallow without water.
Xylitol as a sweetener is beneficial for teeth.
Minisun tablets are free from sugar, lactose, yeast, gluten or gelatin.
Dosage: 1 tablet a day. Suitable for all ages: children from 1-year-olds, adults,
pregnant women and the elderly.
Strengths:
10 μg (400 IU)
20 μg (800 IU)
25 μg (1000 IU)
50 μg (2000 IU)
125 μg (5000 IU)
Package: 100 tablets.
Food supplement.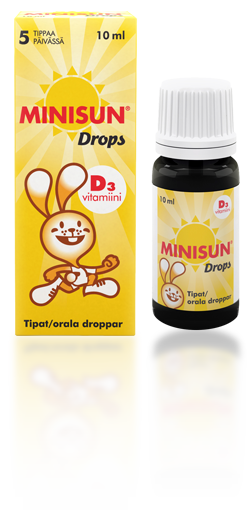 Minisun® vitamin D3 oil drops
Minisun Drops contain vitamin D3 – cholecalciferol – which is a recommended form of vitamin D
providing maximal absorption. Minisun D3-drops in vegetable oil is easy to administer with spoon
or mix with formula, milk or other drink or food.
Dosage: Daily dose of 5 drops supplies 400 IU (10 micrograms) of vitamin D3.
Ingredients: cholecalciferol (D3), vegetable oil, antioxidant (alfatocopherol).
Package: Glass bottle of 10 ml (contains approx. 66 daily doses)
Storage: In room temperature. Use within 2 months after opening the bottle.
Free from alcohol, milk, soya, sugar and yeast. Does not contain preservatives or artificial colors.
5 drops once a day
From 2 weeks to 3 years of age
Food supplement.
Manufactured in Finland.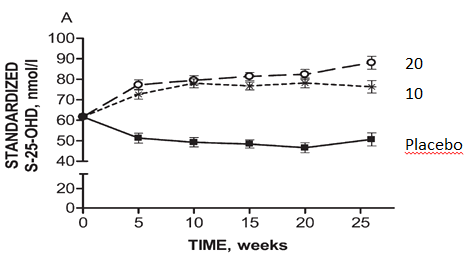 Minisun is Clinically Proven
Cholecalciferol in Minisun tablets is proved to raise the blood concentration of vitamin D to a healthy level and maintain it.