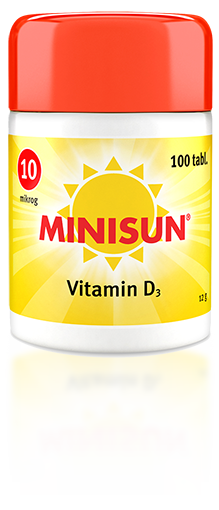 Minisun® vitamin D3-tablets for health and wellness
Minisun tablets contain effective vitamin D3 (cholecalciferol) derived from sheep wool.
Small sized, fresh tasting tablet is easy to chew or swallow without water.
Xylitol as a sweetener is beneficial for teeth.
Minisun tablets are free from sugar, lactose, yeast, gluten or gelatin.
Dosage: 1 tablet a day. Suitable for all ages: children from 1-year-olds, adults,
pregnant women and the elderly.
Strengths:
10 μg (400 IU)
20 μg (800 IU)
25 μg (1000 IU)
50 μg (2000 IU)
125 μg (5000 IU)
Package: 100 tablets.
Food supplement.