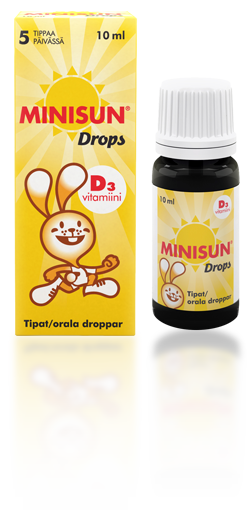 Minisun® vitamin D3 oil drops
Minisun Drops contain vitamin D3 – cholecalciferol – which is a recommended form of vitamin D
providing maximal absorption. Minisun D3-drops in vegetable oil is easy to administer with spoon
or mix with formula, milk or other drink or food.
Dosage: Daily dose of 5 drops supplies 400 IU (10 micrograms) of vitamin D3.
Ingredients: cholecalciferol (D3), vegetable oil, antioxidant (alfatocopherol).
Package: Glass bottle of 10 ml (contains approx. 66 daily doses)
Storage: In room temperature. Use within 2 months after opening the bottle.
Free from alcohol, milk, soya, sugar and yeast. Does not contain preservatives or artificial colors.
5 drops once a day
From 2 weeks to 3 years of age
Food supplement.
Manufactured in Finland.